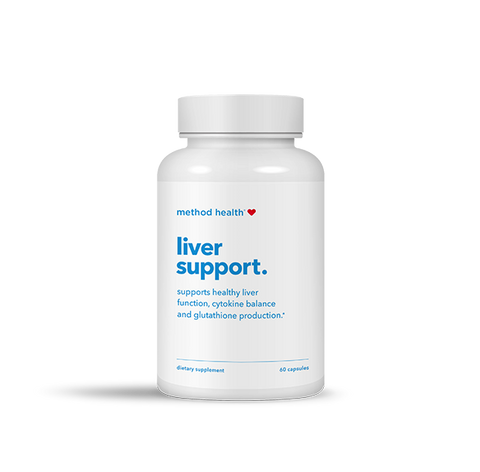 Liver Support
Hepatic Support Formula*
Liver Support 
contains the amino acid N-acetyl-L-cysteine, a key component of glutathione—a tripeptide that plays a significant role in detoxification and antioxidant support. Liver Protect also contains a combination of alpha-lipoic acid, milk thistle extract, and selenium for support of antioxidant activity, regeneration of other antioxidants, and promotion of healthy immune function.*
Benefits:
Supports Healthy Liver Function*
Supports Cytokine Balance*
Supports Glutathione Production*
May Protect Liver Tissue*
Does Not Contain:
Wheat, gluten, yeast, soy, animal and dairy products, fish, shellfish, peanuts, tree nuts, egg, ingredients derived from genetically modified organisms (GMOs), artificial colors, artificial sweeteners, and artificial preservatives.
How to use:
Take one capsule twice daily, or as directed by your healthcare professional.
Consult your healthcare professional prior to use. Individuals taking medication should discuss potential interactions with their healthcare professional. Do not use if tamper seal is damaged.
Supplement Facts
Serving Size: 1 Capsule
Servings Per Container: 120

Selenium, 100 mcg/182%
-as L-selenomethionine
Milk Thistle Extract, 262.5 mg/**
-Silybum marianum)(seed)(30% silybins
Alpha Lipoic Acid, 200 mg/**
N Acetyl L Cysteine, 200 mg/**

** Daily Value (DV) not established


Additional Ingredients: Capsule (hypromellose and water), stearic acid, microcrystalline cellulose, magnesium stearate, and silica.
Warnings:

ALLERGY WARNING
This product is contraindicated in an individual with a history of hypersensitivity to any of its ingredients.
PREGNANCY
If pregnant, consult your health professional before using this product.
*These statements have not been evaluated by the Food and Drug Administration. These products are not intended to diagnose, treat, cure, or prevent any disease.