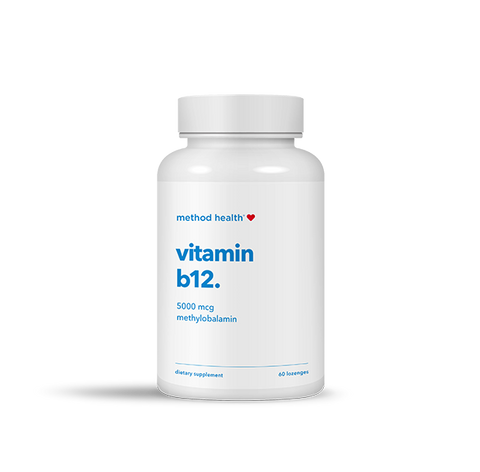 Vitamin B12
Provides a highly bioavailable form of vitamin B12 found in nature
Vitamin B12 lozenges offer high-dose vitamin B12 in a delicious, berry-flavored lozenge. Each lozenge contains 5,000 mcg of methylcobalamin, which is the activated form of vitamin B12, for enhanced bioavailability.* The easy-to-dissolve lozenge delivery format was designed to support superior nutrient absorption and individuals who may have trouble swallowing capsules or softgels.
Benefits:
Supports healthy vitamin B12 status
Promotes neurological function
Supports healthy cellular energy metabolism
Helps support optimal cellular function
Promotes healthy detoxification pathways
Supports healthy cognition and mood
Supports healthy methylation and homocysteine metabolism
Does Not Contain:
Wheat, gluten, corn, yeast, soy, dairy products, peanuts, tree nuts, egg, ingredients derived from genetically modified organisms (GMOs), artificial colors, artificial sweeteners, or artificial preservatives.
How to use:
Dissolve 1 lozenge slowly in mouth and swallow per day or as directed by your health-care practitioner.
Supplement Facts
Serving Size: 1 Capsule
Servings Per Container: 60

Vitamin B-12, 5000 mcg/208,333%%
- as Methylcobalamin


Additional Ingredients: Mannitol, modified cellulose, natural berry flavor, vegetable stearate, citric acid, loo Han gum extract (fruit)
Warnings:

ALLERGY WARNING
This product is contraindicated in an individual with a history of hypersensitivity to any of its ingredients.
PREGNANCY
If pregnant, consult your health professional before using this product.
*These statements have not been evaluated by the Food and Drug Administration. These products are not intended to diagnose, treat, cure, or prevent any disease.