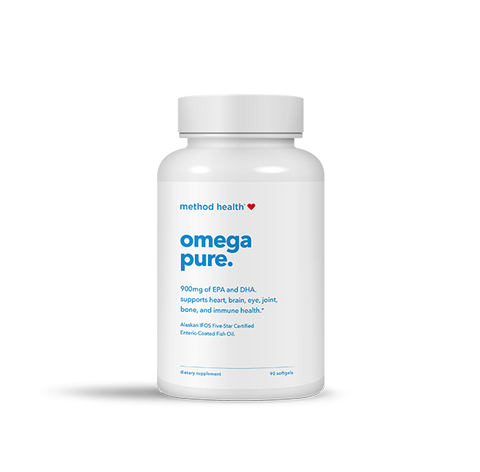 Omega Pure
Alaskan IFOS Five-Star Certified Enteric-Coated Fish Oil*
Omega Pure is International Fish Oil Standards (IFOS) five-star certified, which assures the highest level of purity, stability, and potency in fish oils. Each dose of this concentrated fish oil provides 900 mg of EPA and DHA and is delivered in a small, fish-gelatin–based softgel. The softgels are covered with a GRAS-certified enteric coating so that they are easy to swallow and the EPA/DHA content is optimally absorbed. EPA and DHA from fish oil promote wellness by supporting cardiovascular health, cytokine balance, joint health, and brain and nervous system function.
*
Benefits:
Affects the Production of Arachidonic Acid-Derived Eicosanoids*
Helps the Body Generate Specialized Proresolving Lipid Mediators, Such as Resolvins and Protectins*
Supports Cardiovascular Health*
Supports Healthy Mental Functioning*
Supports Healthy Glucose and Insulin Metabolism*
Does Not Contain:
Wheat, gluten, corn, yeast, soy protein, dairyproducts, shellfish, peanuts, tree nuts, egg, ingredients derived fromgenetically modified organisms (GMOs), artificial colors, artificialsweeteners, or artificial preservatives.
Contains:
Fish (Alaska pollock, Pacific whiting [sources of fish oil], tilapia [source of fish gelatin]) from certified sustainable sources.
How to use:
Take one softgel daily, or use as directed by your healthcarepractitioner.
Consult your healthcare practitioner prior to use. Individuals taking blood thinners or other medication should discuss potential interactions with their healthcare practitioner. Do not use if tamper seal is damaged.
Supplement Facts
Serving Size: 1 Softgel
Servings Per Container: 120

Calories, 10
Fish Oil Concentrate, 1.29 g/**
Total Omega-3 Fatty Acids, 967 mg/**
EPA, 515 mg/**
- eicosapentaenoic acid
Total Fat, 1 g/1%†
- eicosapentaenoic acid
DHA, 385 mg/**
- docosahexaenoic acid


† Percent Daily Values are based on a 2,000 calorie diet. ** Daily Values not established
All Formulas Meet or Exceed cGMP Quality Standards.


Additional Ingredients: Softgel (tilapia fish gelatin, vegetable glycerin, and purified water), GRAS enteric coating (ethylcellulose, sodium alginate, purified water, ammonium hydroxide, medium-chain triglycerides, oleic acid, and vegetable stearic acid), and mixed natural tocopherols.
Warnings:

ALLERGY WARNING
This product is contraindicated in an individual with a history of hypersensitivity to any of its ingredients.
PREGNANCY
If pregnant, consult your health professional before using this product.
*These statements have not been evaluated by the Food and Drug Administration. These products are not intended to diagnose, treat, cure, or prevent any disease.